Old Settlers Days is located at Settlers Park on E Hawick Street in right behind First National Bank/Macktown, (one block off of Main Street) in Downtown Rockton, IL.
There is NO cost for parking.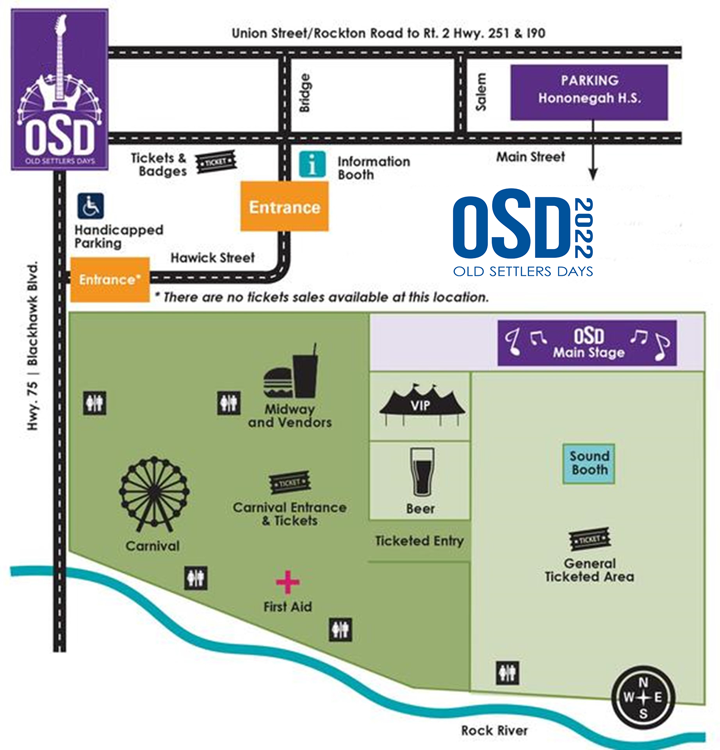 General Directions:
From the South/East (Rockford/Chicago) or from the North (WI):
From I-90: Exit on Rockton Road, turn west approx 3.5 miles. Rockton Road becomes Union Street at the Hwy 2 intersection.

From the South: (Rockford)
From 251: Travel north to 251/Hononegah Road. Turn Left on Hononegah Road. Travel approx 3 miles, the road becomes Main Street after the bridge crossing Hwy 2. Park at Hononegah High school.
From The North: (Beloit/Janesville/Madison)
From I-90: Travel south, exit on Rockton Road. Turn right (west) travel approx 3.5 miles Rockton Road becomes Union Street at the Hwy 2 intersection.

From The West: (Freeport)
Take Hwy 75 east to Meridian Road, turn left (north). Travel to Shirland road and turn right (east). Shirland Road turns into Rockton Road/Union Street as you enter Rockton. Turn Right on Main Street (stop lights) and travel a few blocks to Salem Street/Hononegah High School.
Parking restrictions have been established on the perimeter streets of festival grounds to ensure the safety of pedestrian traffic and emergency vehicle access. It is recommended that you also use the free parking provided at Hononegah High School (307 Salem Street). The main entrance of the festival is a short walk west on Main Street from that parking lot. Handicapped parking is being offered at the parking lot on the corner of Blackhawk and Hawick Streets. Vehicles using this location must display a valid handicapped parking placard.​